Keep Your Finances Afloat
When you're swimming in high-interest debt, cut it down to size with one monthly payment
Did you know that millions of Americans owe approximately $16,000 in personal unsecured lines of credit at an average rate of more than 16%?1 This happens every day to people just like you for many different reasons. Fortunately, a personal loan can be a smart way to simplify your budget and expenses.

Want to know the best part? You may be able pay down your high-interest debt in less time, for less interest, and at a lower monthly payment. Below is an example of the time, money, and interest a personal loan can save you.
High-Rate Lines of Credit vs. Personal Loan*
Based on a $16,000 unsecured line of credit at 16.35% and Personal Loan at 7.25%**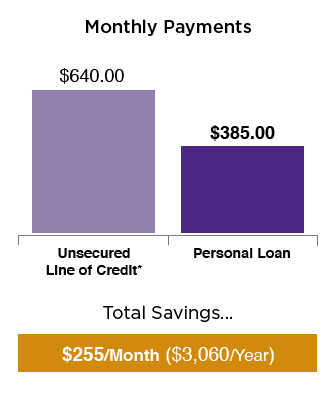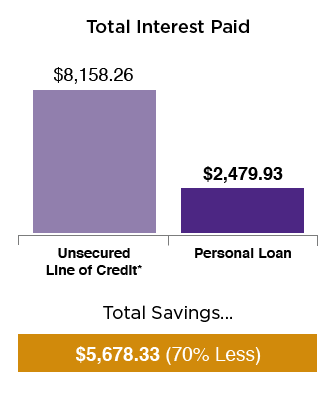 *Example only. Not all Members will qualify for lowest rate. Information based on data obtained from personal consolidation resources from NerdWallet and debt.org.
Benefits and Features:


☑ Lock in a fixed interest rate
☑ No hidden or origination fees
☑ No pre-payment penalty
☑ No collateral required
☑ Automatic payments available for your convenience
☑ Make fixed monthly payments from 6-60 months
☑ Borrow as little as $500 or as much as $25,000
Whether you're looking to lower your monthly payment or pay down debt faster, using a personal loan to consolidate debt takes all those high interest variable rate loans and breaks them down into one easy, manageable monthly payment.
Just click 'Apply Now' below, fill out our quick application, and we'll take care of the rest.
Wondering if debt consolidation is the right step for you? Our Consumer Lending Specialists are available to help guide you to the right money-saving option for your unique needs. Call us to start the conversation.
Membership in Orange County's Credit Union is available to anyone who lives or works in Orange, Los Angeles, Riverside, or San Bernardino Counties. Don't live or work in our area? You may also qualify if your immediate family Member banks with us. Ask us for details. Membership fee is $5.

Immediate Family Includes:
Spouse
Child
Sibling
Parent
Grandparent
Grandchild
Stepparent
Stepchild
Adoptive Relationships