Total Cost Analysis
Home Loans for People, Not Profit
Call Us: (800) 506-5070
Mon - Fri: 8:00 am to 6:00 pm
Sat: 9:00 am - 2:00 pm
Total Cost Analysis
Home Loans for People, Not Profit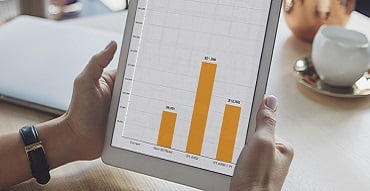 Discover Your Savings with a Total Cost Analysis
With this complimentary service, a Total Cost Analysis lets you see your loan options, costs, and savings, conveniently all in one place.
---
Get a customized report, personalized just for you, that helps you discover your options. Clear and simple graphs and side-by-side comparisons make it easy to see where you can save.
And if you need some advice, we're here to help. Our team of local, experienced mortgage loan consultants can help guide you every step of the way.
Whether you're looking to buy or refinance your home, we'll tailor your Total Cost Analysis to your situation, looking at the numbers that matter to you.
Special reports include:
Which loan is right for you?
Compare different loans or interest rates, side by side to see which is better for you.
Should I buy now or wait?
Look at the cost of waiting compared to buying right now.
Is it better to rent or buy?
See if it makes sense for you to become a first-time home buyer.
Can I lower my monthly payments?
Find out if consolidating your debt by refinancing your home could help you save money.
With a Total Cost Analysis, you can have all of the information you need at your fingertips to make an informed decision about your financial future.
Expert advice and real-time updates
View your personalized analysis any time through a mobile app. Your Total Cost Analysis can be updated in real time, so you will always know the most current financing options that are available to you.
---
Let us help you make the right decision about your financial future.
Call us today to get your complimentary Total Cost Analysis.
(800) 506-5070
---
View registered Mortgage Loan Originators
No purchase necessary to take part in this service and receive a Total Cost Analysis. This is not an offer for an extension of credit or a commitment to lend. All applications are subject to borrower and property underwriting approval. Not all applicants will qualify. Limited to funding California properties only.
Supported Browsers: While most modern browsers will allow you to use the entire Home Loans experience without any problems, we suggest the latest version of Microsoft® Edge, Firefox®, Chrome®, and Safari®.