SANTA ANA, Calif. - July 26, 2017 – Each year, Western CUNA Management School (WCMS) presents the James D. Likens Alumni Recognition Award to honor WCMS Alumni for significant achievements and distinguished service in the credit union movement since graduation from the school. Alumni Association members nominate former students each year and a committee reviews the nominations to select the winner. Shruti Miyashiro, WCMS 1998 graduate and Orange County's Credit Union President and CEO, was the 27th recipient of this prestigious award during WCMS's 56th graduation ceremony held July 20 at Pomona College in Claremont, CA.
Western CUNA Management School, sponsored by 13 western state credit union leagues of the Credit Union National Association and in cooperation with Pomona College, is designed for managers and upper-level operational leaders from some of the Nation's leading credit unions who have set credit union management as their career goal. The curriculum and networking opportunity supports the need to remain abreast of developments in the credit union industry and provides the depth of knowledge to help them excel in their leadership roles. "By attending WCMS, what had previously been a 'job' in credit unions for me, turned into both a career and a passion for the values of our movement," stated Miyashiro. She added, "Having WCMS as the premier option for credit union education has enhanced the careers of countless professionals­–many of who are mentors and respected colleagues of mine."
"In a recent discussion with the Orange County's Credit Union WCMS Alumni Group, Shruti shared the role of mentors in her own life, stating she wouldn't be in the position as CEO without the mentorship of Dr. Likens. He emphasized his philosophy of balancing head and heart with all of his students and Shruti lives this daily," remarked Eleanor Heng, Anaheim Branch Manager and WCMS Alumni Association Board Member, who nominated Miyashiro for the award.
"I'm deeply honored and humbled to receive this award. The namesake, Dr. James D. Likens, has been one of my most influential mentors. He is a man for whom I have the deepest respect," expressed Miyashiro. "As well, the nomination from an Associate on our Credit Union team is the highest compliment a leader can ever receive–the support of people with whom they work."
Each year Shruti continues to stand out amongst the Alumni. "She is always available to assist the students and everyone looks up to her. She makes it a point to connect with everyone and remember our names. It's these little things that Shruti does that stand out and make a difference," added Heng.
With more than 22 years of experience in the credit union industry, Miyashiro has held various positions, starting as a teller then working her way up to executive roles overseeing Branch Operations, Lending, Collections, Human Resources, Enterprise Risk Management, Facilities, and e-Business. She was President and CEO of the subsidiary organization, Orange County Group Inc. and Pasadena Federal Credit Union, with her most recent leadership since 2007 with Orange County's Credit Union.

About Orange County's Credit Union – Santa Ana-based financial services provider exceeding $1.5 billion in assets with more than 100,000 Members. Services offered include checking and mobile banking, savings, retirement accounts, and auto, home, and small business loans. Anyone who lives or works in Orange or Riverside Counties and the neighboring communities of Long Beach, Signal Hill, Lakewood, and Cerritos can bank with the Credit Union. The Credit Union is ranked in the top three percent of credit unions nationwide based on assets. In 2016, the Credit Union was honored with the "Award for Workplace Excellence" by Peter Barron Stark Companies and for the past three years, ranked in the top two of the "OC Register's Best of Orange County" credit unions. For more information, visit the Credit Union's website at www.orangecountyscu.org, or call (888) 354-6228.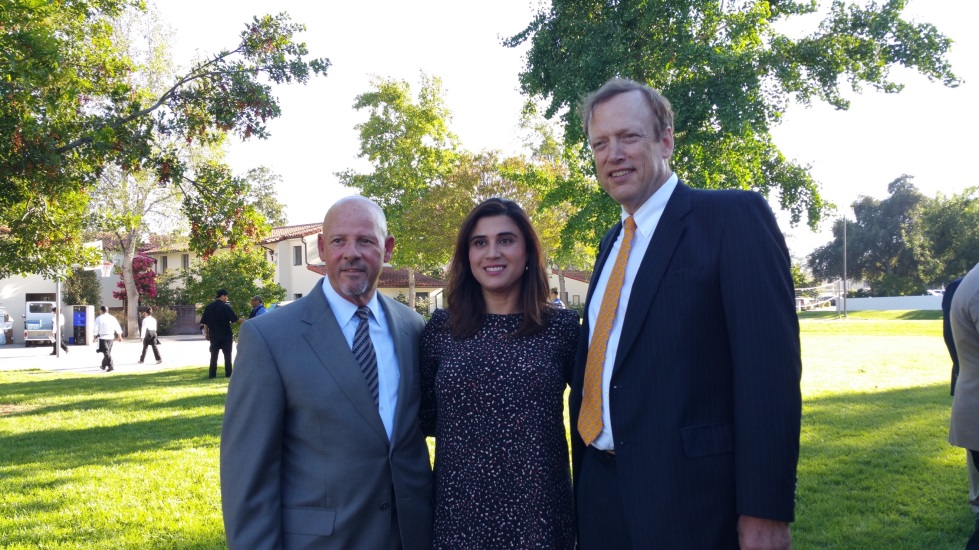 In center, Shruti Miyashiro, President & CEO, Orange County's Credit Union and 2017 James D. Likens Alumni Recognition Award recipient with Bill Birnie, President & CEO, Pacific Marine Credit Union and WCMS Faculty (left) and Bill Cheney, President & CEO, SchoolsFirst Federal Credit Union and Officer of the WCMS Board of Trustees (right).