COVID-19 Stimulus Checks
Here's What You Need to Know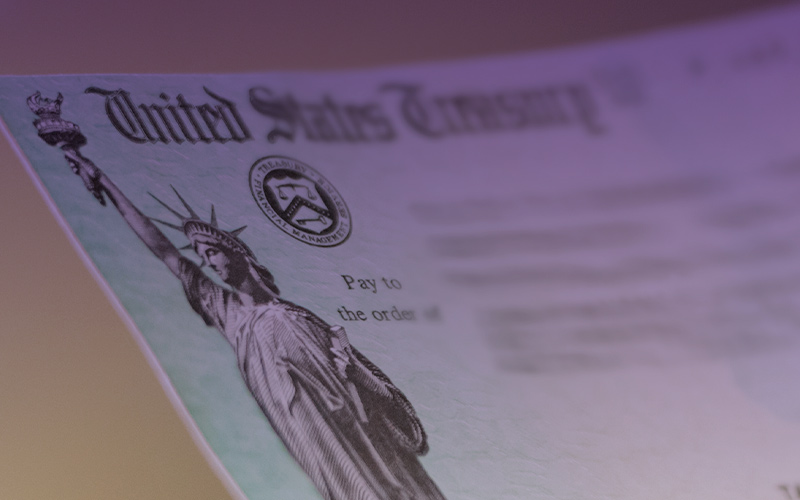 COVID-19 Stimulus Checks
Here's What You Need to Know
With approximately 16 million Americans filing for unemployment, the government has put together the Coronavirus Aid, Relief, and Economic Security CARES Act to assist those who are experiencing financial hardships due to COVID-19 (coronavirus). The stimulus package includes checks that will be distributed within the next coming weeks. Here is what you need to know about the stimulus checks.
How much will I receive?
The plan provides $1,200 to individual taxpayers, $2,400 to married couples filing jointly, and an additional $500 per qualifying child under the age of 17 to families. There are, however, income restrictions. If you earn more than $75,000 as an individual taxpayer, $112,500 as a head of household, or $150,000 as a couple, the amount you're eligible for will decrease. For additional information on payout amounts and qualifications, please visit the official IRS Website.
How will I receive the check, if I am eligible?
Stimulus checks will be direct deposited into the account listed on your 2019 tax return or your 2018 tax return if you haven't filed last year's tax return yet. If they're unable to direct deposit your money, they will mail you your check.
Those who typically don't file a tax return will need to submit information to the IRS through the Non-Filers: Enter Payment Info tool in order to receive their payment. This includes low-income taxpayers, senior citizens, some veterans, and individuals with disabilities. Social Security Railroad Retirement, or SSDI recipients, however, won't need to complete a simple tax form and will automatically get the full $1,200 direct deposited into their account.
We're committed to ensuring you have full access to your stimulus funds, no matter the status of your accounts, and are here to assist you if you have any questions.
When will I receive the check, if I'm eligible?
Direct Deposit disbursements will happen every Wednesday with the first round of payments depositing into accounts on Wednesday, April 15. Mailed checks are expected to be distributed as early as the week of April 20 in batches with the final batch mailed by mid-June.
Can I check the status of the stimulus check?
The IRS has launched a Get My Payment tool that allows you to check the status of your stimulus money including the scheduled date of when your stimulus money will deposit into your account or when your check will be mailed. You'll also have a chance to provide the IRS with your account information so you can receive your check faster with direct deposit rather than waiting for a paper check.
You can also log into Digital Banking online or on your mobile device to view your accounts. You can also check your account through Telephone Banking, or at any Branch or CO-OP ATM.
If I am receiving a mailed check, how can I deposit it into my account?
There are a number of ways you can easily deposit your check, including:
Mobile Check Deposit through the Digital Banking App
Any Branch or CO-OP ATM
Night Drop Boxes at our Ross, Lake Forest, Long Beach, Yorba Linda, and Fountain Valley Branches
Remember to sign the back of your check before depositing at an ATM or through Mobile Deposit for a seamless processing of your paper stimulus check
You can also schedule a branch appointment. Branch appointments are available Monday to Friday from 4:00 pm to 5:00 pm and Saturday from 12:00 pm to 1:00 pm.
What should I do with the stimulus money?
The best use of stimulus money depends on your own individual circumstance. Since it can take up to a few weeks for checks to arrive, you can use the time now to identify the areas where you need the most assistance.
Focus on essentials first.
First, look at essentials such as groceries, utilities, and your home. You can make the most out of your stimulus money with frugality. If your primary need is groceries, meals you can cook at home are usually less expensive than premade or microwaveable meals. It's also recommended to only buy the food that you need each week to reduce the amount of waste.
If you're trying to get caught up on bills, are there assistance programs or deferment opportunities you can utilize? When it comes to credit cards and debt, pay only the minimum balance so you can continue to be in good standing but also add needed dollars towards your essentials.
If your essential needs are met, look to saving.
For those in a more financially stable circumstance, use your stimulus money to build up your savings. Use our no-fee savings accounts to set up an emergency fund that you can fall back on for those unexpected costs, like car or home repairs.
If your essential and savings needs are met, look at investment options.
History shows the market will bounce back, particularly for those on a long-time horizon. Perhaps consider contributing to your retirement or a child's account. Remember, the best investment guidance will come from your financial advisor. Call (714) 885-7599 to get in touch with one.
Additional ways to use your stimulus money
You can also use your stimulus money to start a debt management plan through GreenPath Financial Wellness. With a debt management plan you may:
Stop collection calls
Lower interest rates
Lower monthly payments
Waive late fees and over-limit fees
The Credit Union has partnered with GreenPath Financial Wellness to offer financial relief resources to our Members. No matter what your individual circumstance is, GreenPath is ready and able to offer:
Free-of-charge financial and debt planning services, Phone: (877) 337-3399
Student loan counseling
Financial webinars
Stimulus Check Scams
The FTC is already warning about scammers who claim that in order to receive the payment, the person must confirm their account information. Here are some ways fraudsters are using the government-issued stimulus checks as a way to get your personal account information:
Fraudulent Checks: If you've already received a 'stimulus check,' it's a scam. The IRS has already stated it will take weeks before the checks start being direct deposited into accounts or mailed out. If you receive a check, pay close attention to the amount listed and check to see if there is any requirement for you to verify any information online – if the amount seems strange or the check asks you to complete any additional steps, it's a scam.
Social Media: If you receive any messages through your social media accounts asking you to verify information in order to get your check, it's a scam. The government, or the Credit Union, will never go through social media to get in contact with you.
Processing Fees: Beware of anyone who offers you a fee for faster check processing. The government will not issue any checks earlier in exchange for money.
Correspondence from the IRS: The IRS will use information on your tax return filings for your check. They won't be asking you for personal information.
The rule of thumb: you do not need to provide anyone with any personal account information in order to receive your stimulus check.